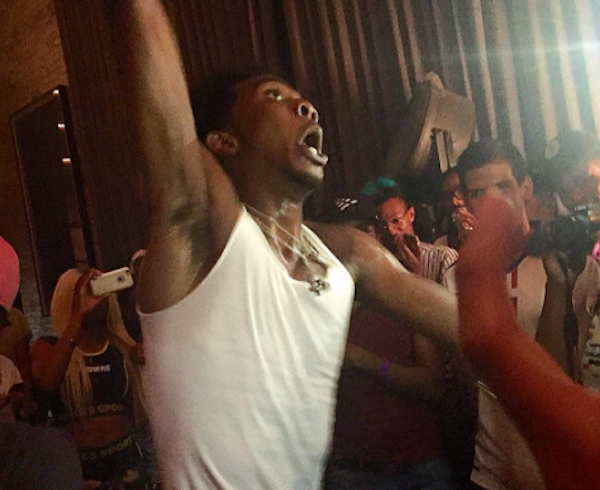 Last night Def Jam and G.O.O.D. Music threw a listening party for Desiigner's upcoming mixtape New English. Around 200 people filed into the World of McIntosh Townhouse in SOHO, New York to hear the highly-anticipated project from the 19-year-old Brooklyn rapper.
The wine was flowing, music blasting, and it looked like a Life of Pablo merch booth violently vomited onto all of the attendees. So many Yeezy 350s. Anyways, after about an hour of exploring the 6-story townhouse and abusing the wine bar, Desiigner arrived and took center stage in the main living room. Here's what we learned:
---
-Desiigner has unlimited energy. He never stopped moving.
-Desiigner does not care about tables and will subsequently break them once he starts dabbing on 'em.
---
-Pusha T is on a track on the mixtape.
-All wine bars should come with complimentary TUMS.
-The Future comparisons will continue, but Desiigner is starting to carve his own lane. A lot of the songs have a Future vibe, but there's definitely an NYC twist.
"My ears aren't broke I know the speakers go louder than this" – Desiigner pic.twitter.com/qZpIMwvKKv

— Pigeons & Planes (@PigsAndPlans) June 23, 2016
-This apartment was the same place they filmed Beyonce's "Halo" video. Neat.
-Desiigner has the best ad libs in the game right now.
-There's a slower track on the tape that sounded fire.
-Some days I don't know what I'm going to do, and now there's finally a song for that:
We don't know when Desiigner's mixtape will be out, but it's definitely coming soon. Look out for New English.
Related: The Power of a Kanye West Cosign
---