Better late than never, as they say. Tonight, on the eve of Independence Day, Jonah Hill entered the hip-hop sphere without warning to express his gratitude to J. Cole. The sentiment is long overdue.
More than 18 months ago, the rapper released his third album, 2014 Forest Hills Drive. The fan-adored project concluded with a heartfelt outro exceeding the 14-minute mark. It found the Fayetteville MC thanking just about everyone under the sun—Hill included. Here's his inexplicable, very random shoutout to the Oscar-nominated actor:
And Jonah! Oh Jonah Hill! How could I forget Jonah Hill! Yo, that shit you told me when we was in the elevator, nigga that shit changed my… I'm just fuckin' playin', I don't know either one of those two dudes. I don't know either one of them niggas, I was in the moment. I just lied, I don't give a fuck!
For whatever reason, Hill acknowledged Cole's kind words over a year and a half after the December 2014 track first released. We're not mad about it, to be completely honest. Peep Jonah's tweet below. Will Cole respond to the delayed love? Stay tuned.
---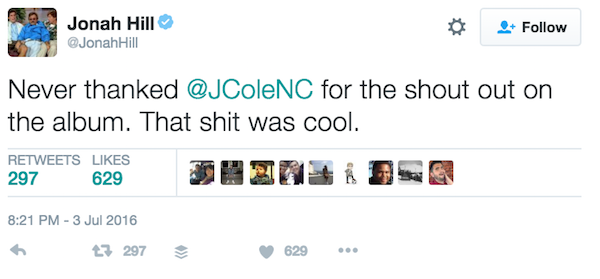 ---