M.I.A. has taken to Twitter to threaten to leak her forthcoming fifth studio album once again. Set to be called Matahdatah, the upcoming record still doesn't have a proper release date, but she did say it should be out around July before, but a solid date has yet to surface. After previously saying she would "love to leak" the album, she tweeted again earlier today saying, "SO ON THE VERGE OF LEAKING THIS LP – ESPECIALLY WHEN I GET TOLD TO 'FIGHT UR OWN BATTLE', 'NOT YOUR MULE' REFUGEES GOT THEIR PLATFORM ETC."
Back when she initially expressed her desire to leak the upcoming album, she said, "I also want to find an album where I can actually make my label work for me." Claiming that other artists have taken from her work before she's had a chance to release it, she tweeted, "I hate it when big American artists take from me and my work and refugee sentiments from my work before it's released." This isn't the first time M.I.A. has experienced problems with her label, but it looks like she's giving them an ultimatum this time around.
It remains to be seen whether M.I.A. will leak the album or not, but here's hoping it'll see an official release sooner rather than later. Check out her tweets below.
---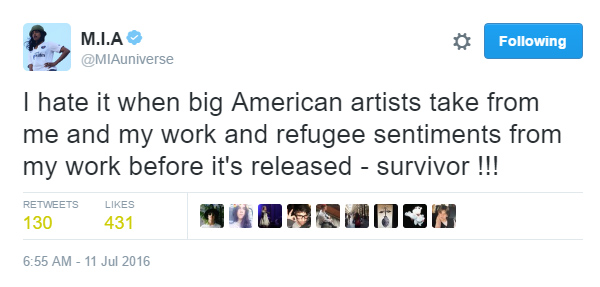 ---