2016's MTV VMA nominations were revealed earlier this week, with Beyoncé and Adele gaining the most nominations. One curious exclusion from the VMAs, however, was M.I.A.'s striking "Borders" video, which addressed the refugee crisis. M.I.A. has understandably taken issue with this and has taken to Twitter, with her tweeting, "BORDERS is not included in the VMAs #hahahahhaahahhaha!! Racism sexism classism elitism #dontwantyourlane!"
She followed up her tweet with another, saying, "BORDERS came representing people outside US showing ?. This is a perfect example of 'allowed' voice vs excluded voices. Even if U direct it. not here 4 EGO or Accolades but know before you tell other ? artists they have the same platform as major US artists coz they don't #?." M.I.A.'s video for "Borders" has received a heated response ever since its release earlier this year.
Speaking about the video on Al-Jazeera earlier this year, M.I.A. said that the reaction to the video had been "extreme." She explained, "It has weeded out a lot of hate from neo-Nazi groups, and people thinking that it's going to cause white genocide, and that's what I'm promoting. Obviously, on the other side, I have had a tremendous amount of support from my fans and other people who feel that it's important for artists and musicians to speak about current affairs, and things that actually affect our society."
M.I.A. was controversially dropped from Afropunk London recently for her comments regarding Black Lives Matter, with Grace Jones replacing her as the headliner. She will also be releasing a new album on September 9, which she says could be her last. Check out M.I.A.'s tweets below, and the video for "Borders" above.
---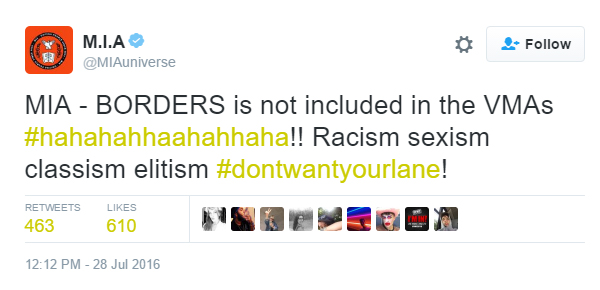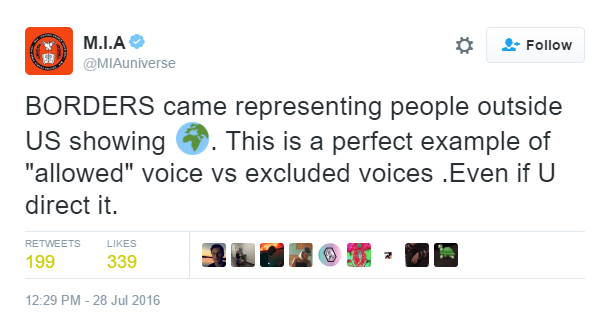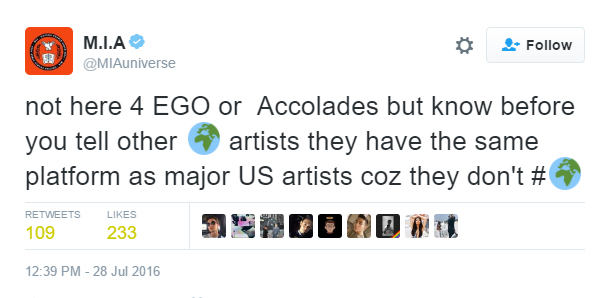 ---