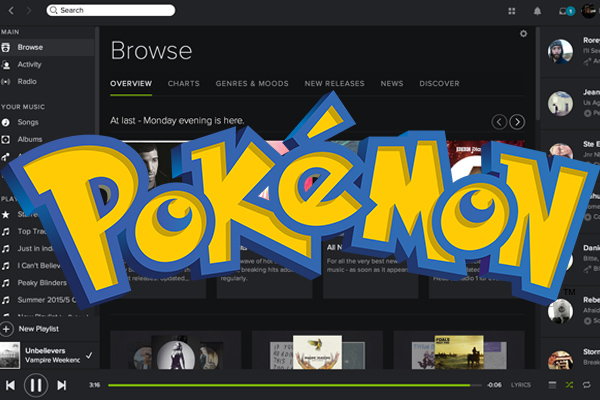 Unless you've been living under a rock, you probably noticed that Pokémon Go came out, and everyone is absolutely obsessed with it. The app, which allows people to become real life Pokémon trainers, has been plastered all over social media since it launched on July 6 on both iOS and Android. The free-to-play augmented reality video game encourages people to explore and live out their childhood dreams of capturing Pokémon in the real world, and it has already lead to some less than desirable discoveries for some users.
The app has reignited a lot of people's interest in Pokémon, so much so, in fact, that people have begun seeking out the original English language Pokémon theme tune. Opening the original season of the anime series, Pokemon: Indigo League, the "Gotta Catch 'Em All" theme tune has been synonymous with the Pokémon brand in the Western world ever since it debuted over here back in 1998. It makes sense then, that Spotify is reporting an increase of 362% streams for "Gotta Catch 'Em All" since the launch of Pokémon Go.
Perhaps in an effort to make themselves feel like a real life Ash Ketchum, users have bumped up the streams of a number of classic Pokémon songs in the past week. The "Pokérap," and numerous other theme tunes from later in the anime's life have also seen an increase in plays. There's also 197,000 user-generated Pokémon playlists on Spotify, as well as a further 53,000 titled "Pikachu." Pokémon Go is slowly taking over the world, and there's nothing we can do about it.
Watch the original Pokémon intro and the video for the "Pokérap" below.
---
---