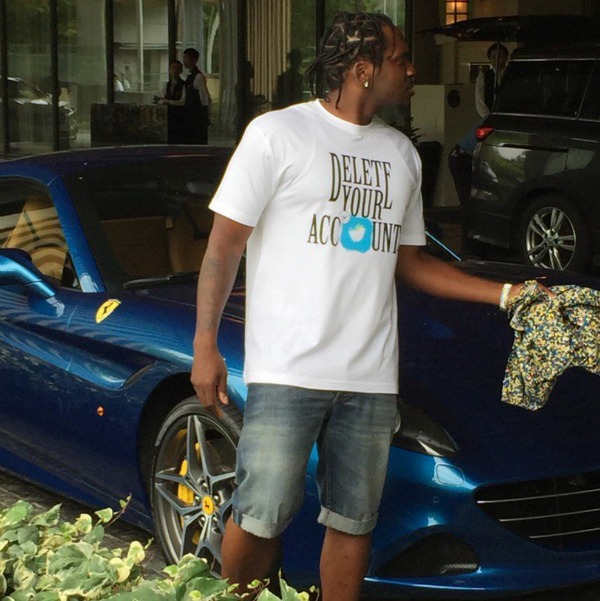 For the past few months, Pusha T has been settling in to his role as President of G.O.O.D. Music. In an ironic turn of events, this president got a FaceTime call from Presidential candidate Hillary Clinton asking him to help sway his home state of Virginia in her favor. While we'll never know exactly what advice Pusha gave Hillary, he has made it very clear that she's got his vote.
Pusha T continues to show his support by releasing pro-Hillary/anti-Donald Trump shirt. The new shirts, which he was spotted wearing today, read "Delete Your Account." The phrase on the shirt references, and pokes fun at a tweet Hillary directed at Trump last month. Hillary's campaign slogan "#ImWithHer" can be seen on the back.
Supporters can purchase their own shirt here. In a series of tweets, Push explained that all proceeds made from the shirts will go to Re-Imagine Justice, which is a prison reform and rehab program based in Chicago.
SMH at the idea of undoing Obama's legacy w/ a vote for this BUFFOON. Vote! #ImWithHer https://t.co/vMpBFYgmnt pic.twitter.com/osPmocldQi

— King Push (@PUSHA_T) July 29, 2016
---
https://t.co/eWRDULJRs4 all proceeds going to "Reimagine Justice" prison reform/rehab

— King Push (@PUSHA_T) July 29, 2016
---
Hey @realDonaldTrump you have to #DeleteYourAccount https://t.co/eWRDULJRs4

— King Push (@PUSHA_T) July 29, 2016