Last night, I was up until two in the morning talking about rap music with a group of strangers from Germany as a Ski Mask The Slump God song blared in the background.
Thankfully, I didn't have to navigate the dark corners of a sketchy German club for the experience. Actually, I didn't even have to leave my living room. I was in the live chat section of a 24/7 YouTube stream called "Underground x Hype Rap Music" by popular music channel Rap Town.
One of many 24/7 music broadcasts popping up on YouTube this year, the stream plays a nonstop rotation of genre-specific music chosen by the channel's owners. A modern play on radio (without the ads), these streams are an easy way to find new music, but what makes them really stand out from other discovery options are the accompanying live chat boxes.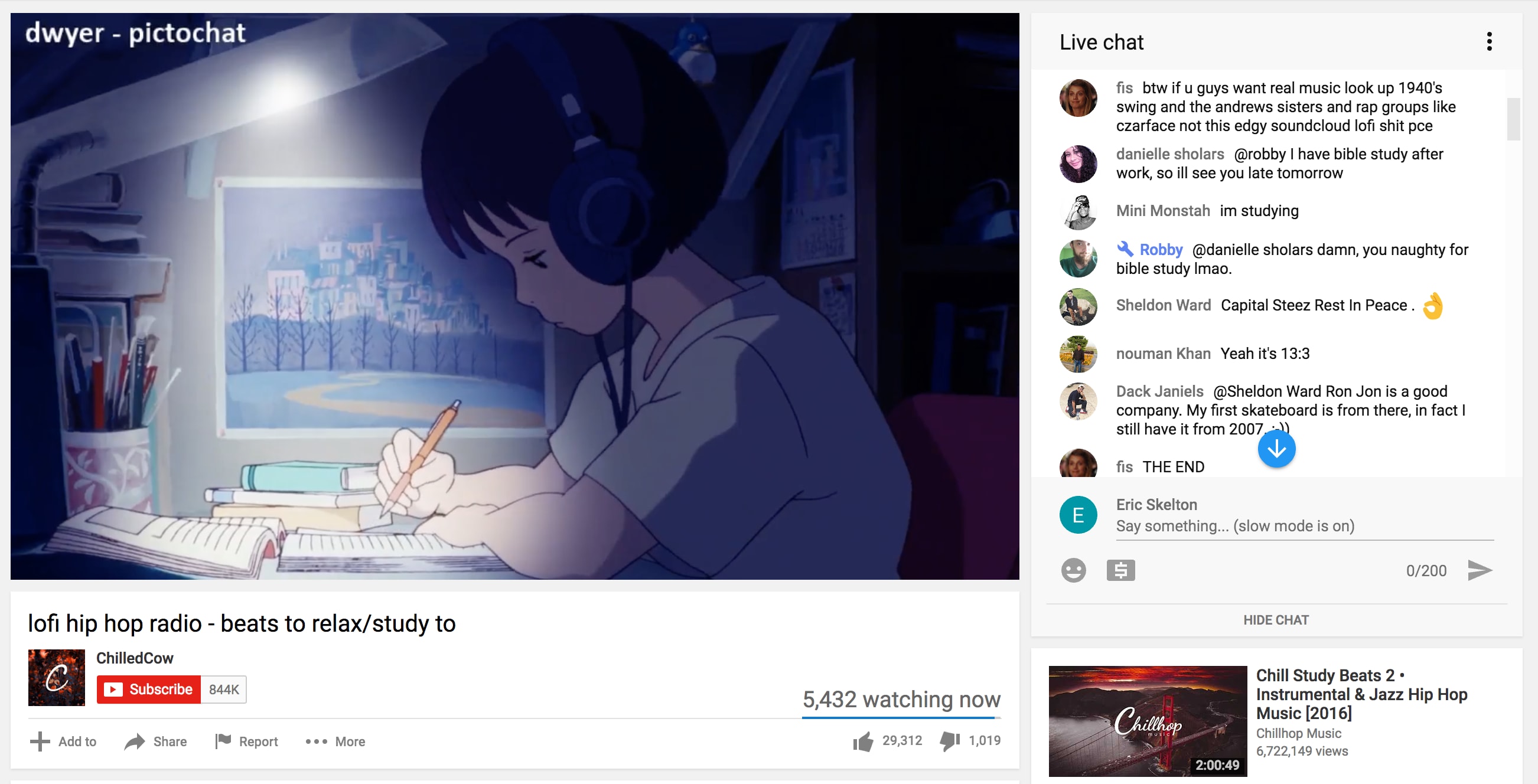 "I honestly love the chat box," Matthew Chavez, the organizer behind Rap Town and Samurai Music tells me. "If it wasn't there the stream definitely won't be the same way it is today. Sometimes the things that are said on there can have you rolling on the floor laughing, to being flat out messed up—to being actually supportive of each other. It's like we're truly all a family in this chat."
A place for people to come together and talk about music they all have an interest in (or just sit around and talk shit about LeBron James like they earlier this week) the chat boxes offer a sense of community that impersonal music discovery options like streaming service playlists are struggling to provide.
"I've seen groups and things be made on the live stream chat," Chavez says. "Knowing that it was all started from a live stream, though, is amazing. We've even had one person create an actual rap song just dedicated to the moderators in this chat known as 'Wrench Gang.'"
​Unlike traditional radio, most streams turn into a collaborative project between the channel and its listeners.
"I always encourage requests," Chavez continues. "I love it when the music community pitches in together and we can all create something that we can all enjoy. I decide what makes it on the stream through my own music taste, which people really seem to like and can mostly agree on. But I've always pictured this as not just my stream, but everybody's, because anybody has a shot to get on this channel."
​Currently, 24/7 streaming options are limited, with the majority of channels focusing on study-friendly hip-hop instrumentals or electronic music, but as YouTube's live stream technology becomes more widely adopted, it feels like it's only a matter of time until music channels of all genres get involved.
"Its actually very simple once you get the idea," Chavez says of the technical side of live streaming. "It is really just an extremely long playlist on shuffle. Sometimes, though, I like to control what plays and play whatever the chat wants me to play. I really enjoy it because then I see what my fans enjoy and I can add more songs that they like in the future. I have this stream hosted on a dedicated server so there should never be any problems or downtimes."
Of course, with any new trend like this, legality is an issue. For now, most of these streams have flown under the radar and avoided being flagged for copyright infringement, but as view counts rise, this could change.
Current legal concerns don't necessarily mean the format is doomed, however. Services like Dubset have recently emerged to help identify and compensate rights-holders by automatically scanning and paying out royalties—paving the way for unofficial remixes and DJ sets to legally find a home on Spotify. If YouTube recognizes the potential of these streams, it's possible they could adopt a similar approach.
In the meantime, these streams offer a glimpse at a whole new realm of possibilities when it comes to sharing and consuming music online. Taking advantage of YouTube's new live streaming technology and flipping it into an interactive music discovery platform, the format feels like a peek into the future of radio.
"I think what makes live-streaming so special and unique compared to just uploading a new song on my channel every few days or so is that you give my viewers something to come back to every day," Chavez says. "And it gives listeners a place to interact with each other, which I think is the best part of all of this."
Finally, he adds, "I've been able to talk to fans from different places all around the world (Russia, Germany, Poland, France, etc), which I truly love. I love everything about YouTube and how anybody has a platform to make it out there in world and both of my channels are pushing new artist out there to thousands of people every day."