Jay Z's 4:44 is still shrouded in mystery right now, but with the more time that passes, the more it seems like we're getting a full-fledged project. In a new commercial promoting the partnership between Sprint and Tidal, Hova dropped off some bars from a new song, "Adnis," fueling speculation that an album is coming.
We didn't know much about 4:44 before now, aside from it having a June 30 release date, and Jay looked like he was really trying to drag this thing out until the bitter end. Half a minute worth of bars? Come on, Jay!
But Sprint may have spilled the beans on their website. If you go to Sprint.com and page through the links promoting their new partnership with Tidal, you end up finding this message.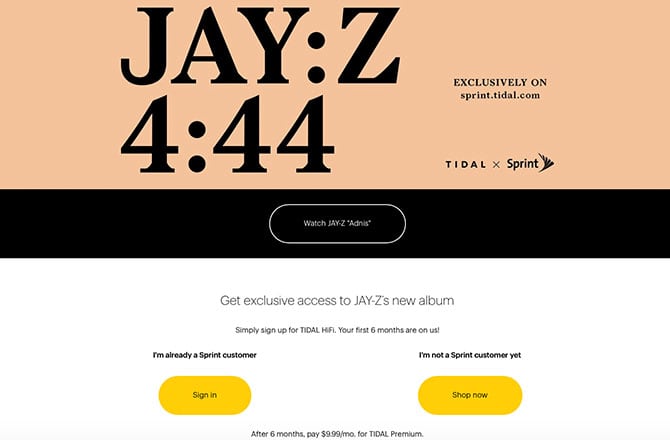 That's no accident, and this is direct confirmation that a new Jay-Z album is coming in late June. This is a pretty drastic departure from  the mysterious, unexplained 4:44 ads that popped up around around New York City, with the hype now transforming into a full-blown campaign for a 4:44 album.
This leaves us with a lot less mystery left to solve, and now we can focus on what Jay Z has to offer as a rapper at age 47. Maybe he's not able to reach the heights he did on classics like The Blueprint, but there's a recipe for success if Jay wants to reassert himself. The father of three didn't get inducted into the Songwriters Hall of Fame on a whim, and hopefully there are still some classic bars waiting to be unleashed.
If we're lucky, we'll get the full "Adnis" song soon enough, and now we know 4:44 the album will be ours in late June. You can catch the video of the new spot up top, and see if you can find any more clues about 4:44 in the 30-second clip.