Jaden Smith is growing up and the quality of his new music is some turning skeptics into fans. That being said, he's still Jaden Smith. And he's still good for some classic philosophical Jaden Smith quotes here and there.
On Wednesday afternoon, he jumped on Reddit for an official AMA (Ask Me Anything) and dropped a few gems for fans.
To kick things off, a fan asked: "How do you feel about people poking fun at some of your more 'out there' tweets? Do you have a hard time embracing the meme or do you just roll with it?"
Jaden replied that he's (somehow) not a fan of memes: "Hey First Off I'm Super Weird So I Don't Really Care About Memes I Care Much More About Influencing Music And Fashion."
Then, when he got called out for not fully answering a three-part question, Jaden got deep: "How Can Questions Be Real If Our Eyes Aren't Real."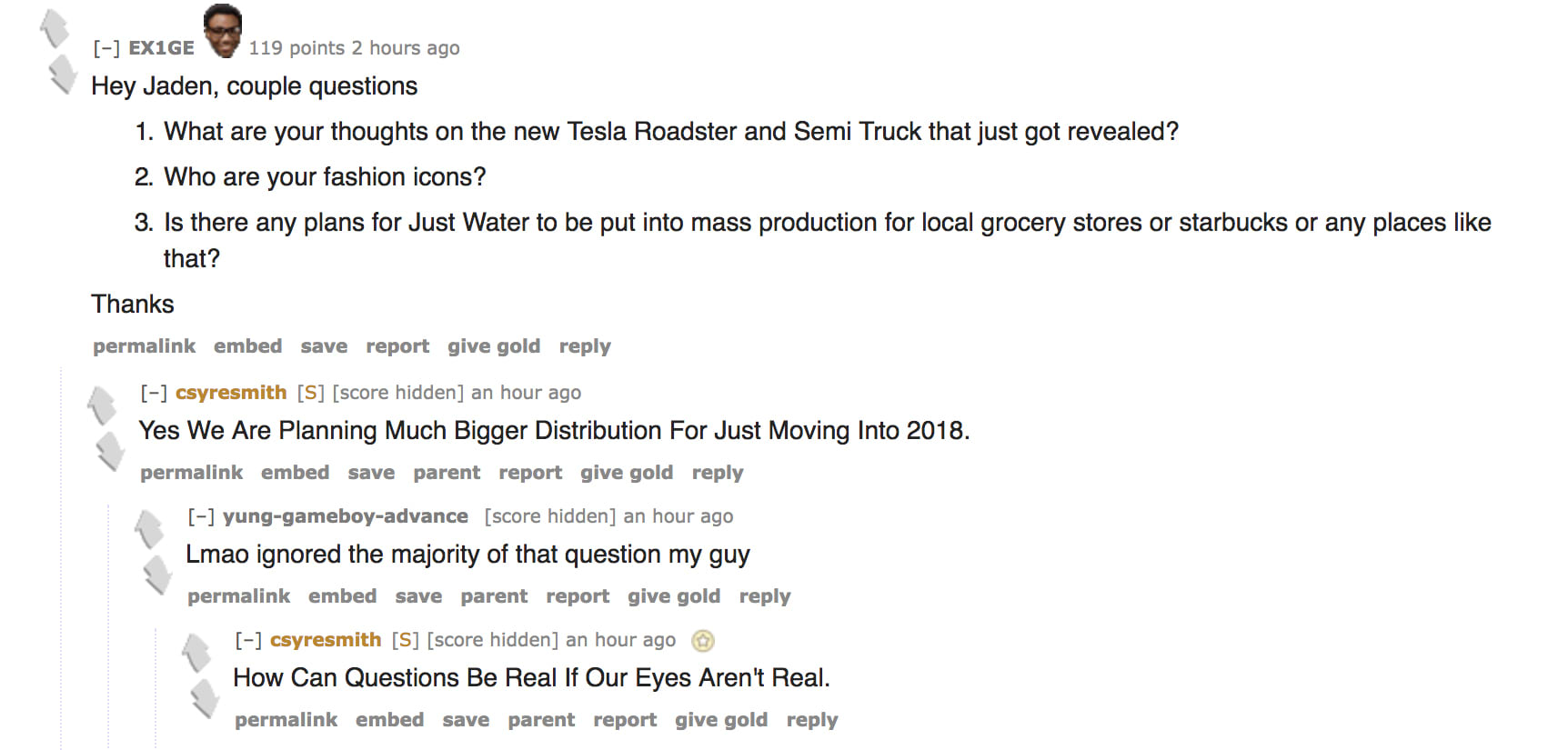 This, of course, was a reference to his classic mirrors tweet back in 2013. Or, maybe, Jaden really doesn't think eyes are real. It's honestly hard to tell.
Throughout the rest of the AMA, Jaden answered questions about his music, tattoos, Buffy The Vampire Slayer, Frank Ocean, Brockhampton and more. You can read the whole thing over on reddit or see some of the highlights below.
What is something no one would ever guess, that you fuck with?
Jaden: Buffy The Vampire Slayer
What's Frank Ocean's number? But for real, whats he like to hang with?
It Makes Me Nervous To Hang Out With Him, Cause He Is Too Talented​
If you could choose any 5 artists to feature on your next project, who would they be?
Kendrick, Bon Iver, EARL, Justin Bieber, Lola Wolf​
How do you plan on countering and healing deep-rooted misogyny in hip-hop?
By Leading By Example​
808s or Yeezus?
Yeezus
Do you actually have a tattoo on your torso?​
No But I Will Soon
Why Do You Capitalize Each Letter Like This?
Aesthetic
How do you feel about BROCKHAMPTON? Any plans with them?
BROCKHAMPTON Is Fire And Yes We Have Plans
Do you think your abnormal upbringing is going to make it difficult to make relatable music in the future?
I Make Music About Personal Experience Not To Try To Fit In.
Where did you cop your white batman costume?
It Was Made Custom​
Continue to see New Yorkers react to Jaden's music (and philosophical tweets) in the video below.